Our Dessert-style Buttercream cakes are perfect for any occasion – birthdays, showers, engagements, A Friday night – anything!
**We need at least 2 weeks notice to guarantee an order**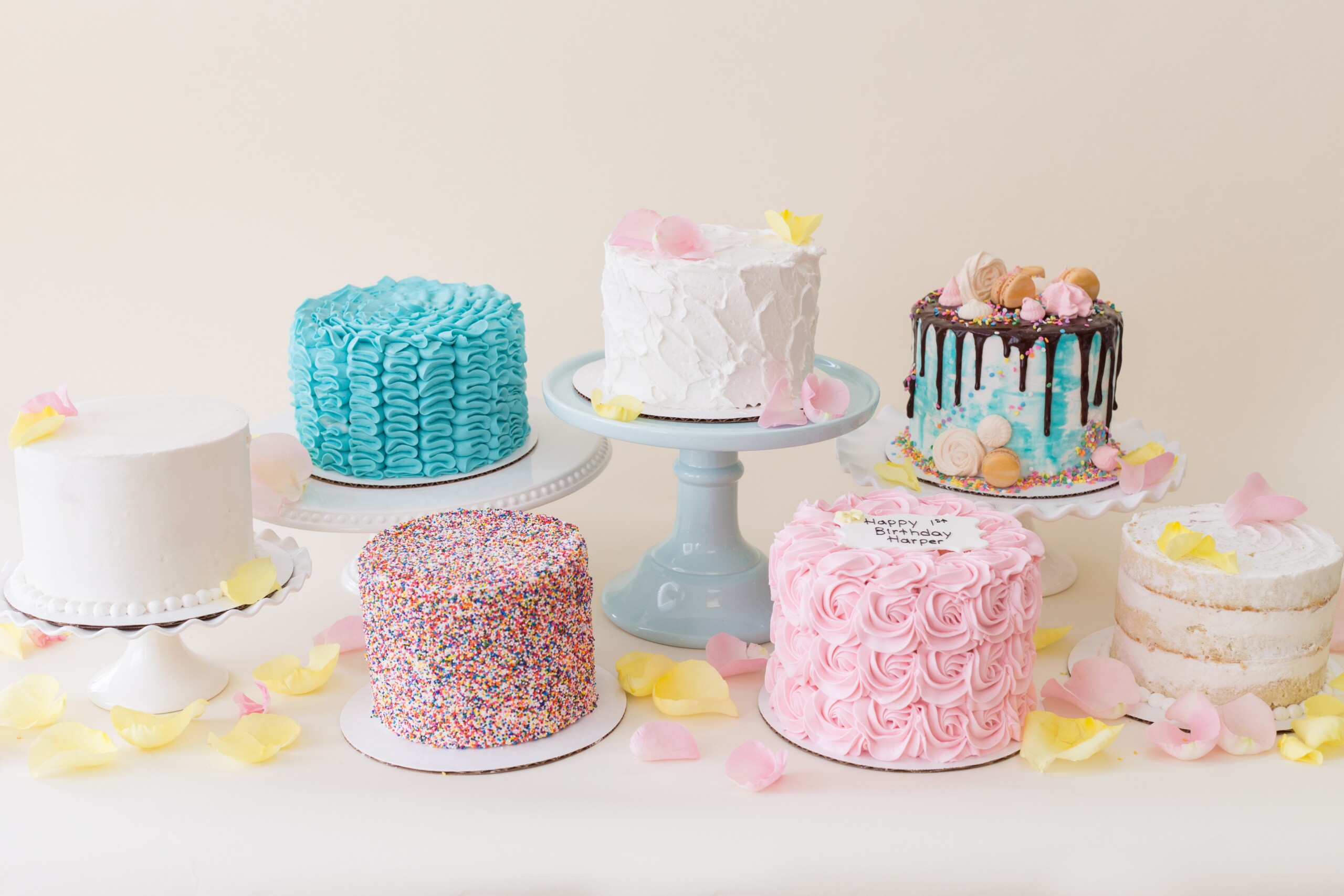 Since we bake to order – from scratch! – we need at least 2 weeks notice (not always guaranteed – we book up fast!)
They consist of three cake layers, two layers of filling and stand about 5″ tall. You can choose one cake flavor, one filling and the exterior Buttercream.
You can change the icing color on any of these cakes but they cannot be altered in design. Any extra decor would be considered a custom cake.  
The written message on a sugar plaque is complimentary and placed on either on top or the side (as shown on the "Rosette" cake)
Cake Flavor:
Chocolate, Vanilla Butter, Winter White Vanilla, Red Velvet, Lemon, Almond, Funfetti, Carrot, Banana Bread, Pumpkin (seasonal Oct – Dec)
Filling Options:
Vanilla Buttercream, Fudge Filling, Chocolate Buttercream, Oreo® Buttercream, Salted Caramel Buttercream, Coconut Buttercream, Brown Sugar Buttercream, Peanut Butter Buttercream, Cream Cheese Filling, Strawberry Preserves, Raspberry Preserves, Vanilla Custard, Chocolate Custard
Exterior Icing:
Chocolate Buttercream or Vanilla Buttercream (Vanilla can be any color)
6″ to feed 10/12 – $50
8″ to feed 15/20 – $80
9″ to feed 25/28 – $105
10″ to feed 30/35 – $140
12″ to feed 40/50 – $175
Premium Dessert-Style Cakes
6″ to feed 10/12 – $85
8″ to feed 15/20 – $135
9″ to feed 25/28 – $165
10″ to feed 30/35 – $190
12″ to feed 40/50 – $215